Last Updated on August 4, 2023 by Victor A
There are countless ways that you can style your silver car, and the best way to do it is by choosing the perfect set of rims. That's why it's important to understand what are the best color rims for a silver car.
Rims are available in many different colors, and each one can give your car a completely different look, that's why we have prepared this article where we tell you and show you which combinations are the best.
But you should be aware that some color rims might make your car look bad, especially if you don't combine it with silver properly. This happens to other similar car colors like grey, which have similar color combinations to silver cars.
Then, what are the top 3 best color rims for a silver car?
If you want to know what are the best color rims for a silver car you need to first realize that in the automobile industry, the color silver is used to convey elegance, industrialism, and prestige. 
That tells us that flashy color rims won't work properly, however, more subtle colors might look outstanding.
1) Gunmetal Gray rims for a silver car are always the best choice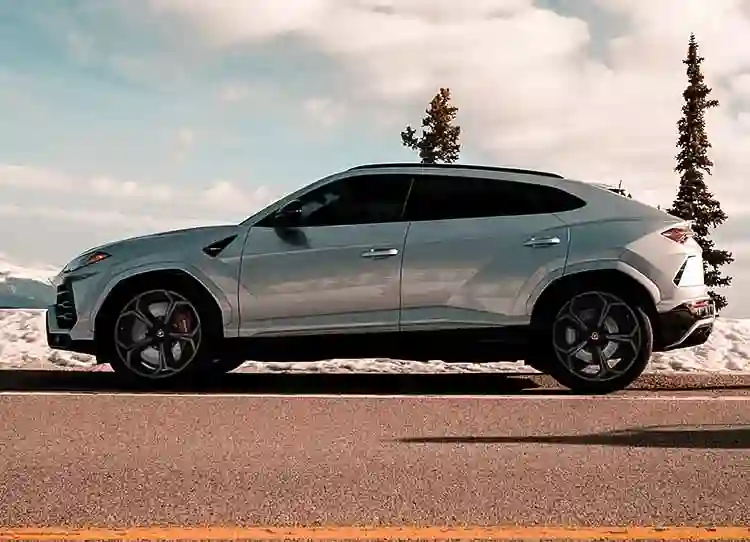 There's a reason why most automakers charge a considerable extra when optioning a car with Gunmetal Gray wheels, they know they are desirable and work well with almost every color, this is the best rim color for a silver car.
These types of rims are especially great for sports cars or performance SUVs, they are a darker shade of gray, which helps enhance the aggressive looks of a car while also maintaining elegance.
Gunmetal Gray make the best color wheels for a silver car, nevertheless, they also work well in luxury cars, this is the best color combination for a silver car if you find silver rims boring, and black rims excessive.
2) Black color rims for silver cars work very well
Black rims work with every single car color, but with silver it does exceptionally well, since silver is an elegant color the black rims help it accentuate that elegance.
However, you need to be careful with this rims color as we relate them to sports cars, you don't want to be driving a silver family SUV with black rims as it might look off.
Black rims on a silver car provides a perfect contrast that grabs people's attention without being too much in your face. 
If you have a silver performance SUV, a sports car, or a sporty sedan we definitely recommend black wheels on silver car, however, this color rims work best on red cars.
3) Silver color rims in silver cars are the safest option
As you might've expected, the color silver is one the best wheel color for a silver car, and the reason for it is simple.
Silver and silver work great, it helps emanate a sophisticated but modern look into your car which looks great with every car design.
The good thing about choosing silver rims is that normally you won't be charged extra, as it's usually the standard color of rims, plus it never fails to look good in a silver car.
Silver rims are always a safe choice for any car color, they look exceptionally well in white cars.
What about the top 3 worst color rims for a silver car?
Certain rim colors should be avoided in silver cars, the main reason for it is that those colors don't combine well.
And they do the opposite as you want, like making a silver car look vulgar. The only good thing about those color rims is that at least the car won't look boring, but that's not always a good thing.
1) Blue rims don't look good in silver cars
Let's be honest here, blue rims don't look good in almost any car color, not even in blue cars, except for some tuned JDMs.
There's a reason why it's so hard to find a manufacturer that offers this rim color, it just doesn't work well, and a silver car with blue rims looks horrendous.
A silver car with rims should come in colors that don't contrast that much, blue rims are just too flashy.
Blue rims with silver cars look bad, as they don't fit well together, unless it's a dark shade of blue, or they are silver rims with dark blue accents.
2) Gold rims in silver cars are to be avoided
Gold rims are hard to combine with almost every car color, especially silver cars, however, they can look great in black cars.
The thing with combining gold rims with silver cars is that it looks too flashy, yet we understand that some people look for that.
But there are ways to achieve that without looking too tacky, and the way to do that is by using bronze wheels.
3) Bronze rims don't work well with silver cars, but there are exceptions
In the last few years, we have started to see more bronze rims in limited edition cars or high-performance cars like the Porsche 911 GT3.
In many cars the automakers don't even offer the choice of mixing the two colors, like in the Cayenne Turbo GT, as it doesn't look great, however, there are exceptions, like the BMW M5 CS whose design works well with this color combination.
The combination of bronze rims with silver cars usually don't look good unless there are bronze accents around the car. However, if the car is in a dark shade of silver it can work with bronze rims.