Last Updated on April 6, 2023 by Victor A
Throughout history, Jeep has introduced and removed different color options in the Wrangler. In this article, we are going to show you all the current color options, the best Jeep Wrangler color, and its best all-time colors.
The Wrangler is an iconic SUV that's been around since 1986. The 4×4 off-roader is available in both two-door and four-door body styles, and it's known as being one of the best and most popular off-roading vehicles in the world.
Today, Jeep offers many different exciting paint options, however, they have dropped some of the best-looking colors which many Wrangler enthusiasts want back.
All the current 2023 Jeep Wrangler colors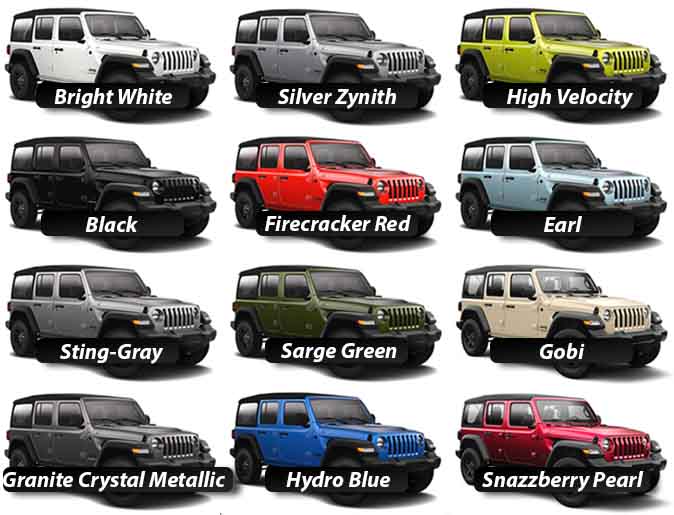 In total, there are currently ten Jeep Wrangler colors for the 2023 model year:
Black
High Velocity (Yellow)
Sarge Green
Bright White
Firecracker Red
Hydro Blue
Earl (Light Blue)
Silver Zynith
Sting-Gray
Granite Crystal Metallic (Silver)
The Bright White color comes as standard in the 2023 Jeep Wrangler, however, if you want to change it to any other color you will have to pay an extra $395.
The most recent colors were the Earl Clear-Coat, and the all-new Reign Clear Coat paint (which is in purple).
Notice that not every model gets the same paint options, for example, the Wrangler Rubicon 392 is available in all colors except in Granite Crystal Metallic, while the Wrangler Sport is available in all of them.
For this 2023 Wrangler model year, Jeep has dropped the limited-edition Gobi paint (Light Brown) that honestly looked well in the Wrangler and the Snazzbery Pearl paint (Dark Red) which wasn't very popular among customers.
If you go for a 2022 Jeep Wrangler, you can still get it in Gobi Clear-Coat for $495 more, however be fast because this is a limited-edition paint, or choose it in Snazzberry Pearl for an extra $295.
Top 5 Best Jeep Wrangler Color choices for the 2023 model
In terms of which current colors look better on the latest iteration of the Wrangler, we think that this is the right order:
Black
Hydro Blue
Sting-Gray
Bright White
Firecracker Red
Best Jeep Wrangler color (2022-2023): Black Clear-Coat
Black is the perfect color for the Wrangler, there is a reason why it's the most popular car color, and when it comes to the 2023 Jeep Wrangler it's the perfect fit.
First of all, black never goes out of style, it gives an air of sophistication and sleekness while still looking tough and rugged.
But most importantly is its practicality, with the black color your Wrangler won't show dirt, scratches, or dents, as much as with other colors, which is important for an SUV like this which is likely to tackle some hard situations.
Hydro Blue Clear-Coat
A calming vibrant color is always a great choice, and that's why Hydro Blue is the second on the list.
Hydro Blue is both eye-catching and stylish, and if you want to turn heads, this color should be on your radar.
It's a cool color that makes the Wrangler feel more youthful while also keeping some elegance. Add to it that it blends very well with nature and you get a killer combination.
Sting-Gray Clear-Coat
For off-roading lovers, Sting-Gray should be an option, it won't show the mud and the dirt as much as other colors, but also when you are in urban areas it will make your Wrangler look sleek and modern.
Another good quality about the Sting-Gray Clear-Coat is that it's easy to combine with different color rims.
One quality that we love about it is that it's quite discrete, sometimes you don't want to grab attention, so this color does the perfect job, and if you're off-roading you might want to camouflage your Wrangler, which this color does very well.
Bright White Clear-Coat
Like the black color, the white will never go out of style since it will always look fresh on your Wrangler.
The coolest thing about Bright White is that if you don't put any accessories in your Wrangler it will make it look very clean, but if you go crazy and add some of them it will make it look very rugged.
Another nice thing about this color is that it looks good with any tire color and aftermarket rims.
Firecracker Red Clear-Coat
This is a color for adventurous people, it tells others that they want to do exciting things and take risks.
If you want an eye-catching color, that is bold and vibrant, then, Firecracker Red is the perfect color for your 2023 Jeep Wrangler.
Top 5 all-time best Jeep Wrangler color paints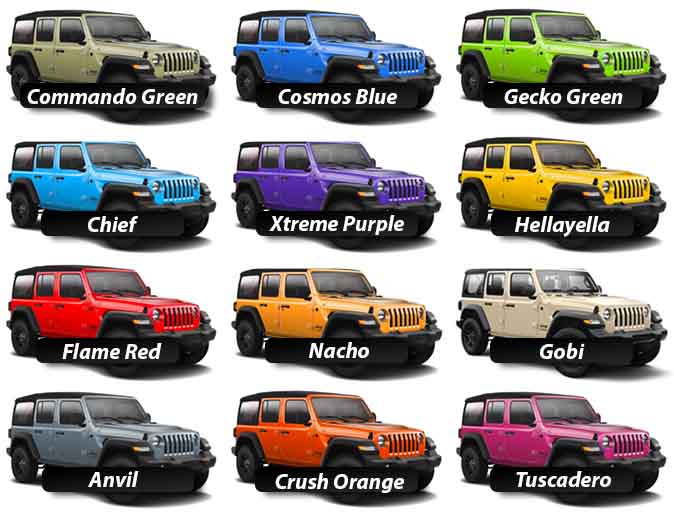 When it comes to discontinued colors things get more complicated since Jeep had released many great-looking colors that looked fantastic in the Wrangler.
The thing is most Wrangler owners won't agree on which color compliments the Wrangler the best, and when it comes to colors, each person has different preferences.
So based on popularity, desirability, and looks, these are the all-time top 5 best Jeep Wrangler colors in history:
Anvil (Bluish Gray)
Hellayella (Yellow)
Gobi (Light Brown)
Crush Orange
Commando Green
Best Jeep Wrangler color (All-time): Anvil Clear-Coat
The Anvil color fits perfectly the Jeep Wrangler's rugged square-shaped design since it looks good when the car is either clean or dirty, plus it creates a compelling contrast with its black parts.
We also think it's the best Jeep color, as it can fit any vehicle in their line-up.
The thing that we like the most is the fact that the Anvil color looks modern with its bluish shade combined with the Wrangler has retro looks, this makes the car feel fresher without losing its iconic design.
Hellayella Clear-Coat
Let's be honest here, the name of this color is perfect. Hellayella is an exciting yellow that would make your Wrangler stand out everywhere it goes.
Surprisingly, this is a color that would normally look odd in most SUVs, especially in off-roading ones, however, in the Wrangler it fits perfectly.
Gobi Clear-Coat
The Gobi color provides a military-modern look to the Wrangler that does a good job of highlighting its unique boxy design, it also looks clean
The best thing about this color is that it doesn't lose its appeal when it gets dirty, as the color by itself has a light-mud look.
Crush Orange
Similarly to Hellayella, Crush Orange will get you many looks without having to compromise your Wrangler design.
The thing we like the most about this color is how vivid it looks, and the great contrast it creates with all the other black parts in the Wrangler's exterior design.
Commando Green Clear-Coat
The perfect color for those looking for a military look, we can't deny it fits this SUV perfectly, as it's made to look tough and rugged.
Commando Green reminds us of the Gobi color, however, this is a more traditional color that fits great in cars with retro looks.
Other all-time great Jeep Wrangler colors
But as we said before, there are many other interesting colors, so find below a list of some other fan-favorite colors that perfectly fit the Wrangler:
Nacho (Orange)
Chief (Light Blue)
Gecko Green
Tuscadero (Pink)
Cosmos Blue
Flame Red
Xtreme Purple Pearl
At the end of the day, this is all about personal preferences, if you feel like a color fits the Jeep Wrangler, or you are just more fond of a color we encourage you to go for it.