Last Updated on April 6, 2023 by Victor A
The Bronco is known for its tough, off-road image and its wide range of colors. The Ford Bronco Badlands colors offering consists of 11 choices.
This is one of the most iconic American SUVs of all time. It's been around for over 50 years, it has been a staple of American culture, and the Badlands version is one of the most popular variations.
All the Ford Bronco Badlands colors
There are in total 11 colors for the 2023 Bronco Badlands, where most of them come as standard except for the Metallic Hot Pepper Red Metallic Tinted Clearcoat, which costs $495, and the Azure Gray Metallic Tri-Coat which costs $995.
These are all the colors:
Shadow Black
Oxford White
Cactus Gray
Iconic Silver Metallic
Carbonized Gray Metallic
Race Red
Eruption Green
Metallic Hot Pepper Red Metallic Tinted Clearcoat | $495
Area 51
Velocity Blue Metallic
Azure Gray Metallic Tri-Coat | $995
The main colors here are black (Shadow Black), white (Oxford White), grays (Cactus Gray, Carbonized Gray Metallic, Area 51, and Azure Gray Metallic Tri-Coat), silver (Iconic Silver Metallic), reds (Race Red, and Metallic Hot Pepper Red Metallic Tinted Clearcoat), green (Eruption Green), and blue (Velocity Blue Metallic).
The fact that Ford offers four different shades of gray tells us that this is a very popular option, which makes sense since this is an SUV that's likely to spend a lot of time off-roading, and this color matches well with almost any rim color.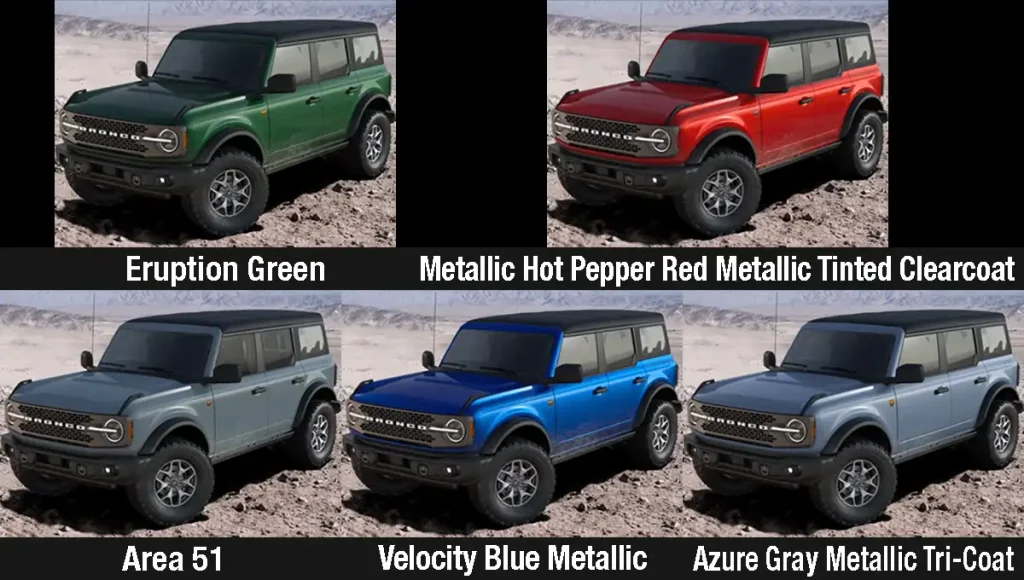 What is the best color for the Ford Bronco Badlands?
First of all, we need to understand that the Badlands variant is an off-roading-focused one, which means that choosing the right color is going to be important.
You don't want a color that looks off when it's dirty, but at the same time, you want one that greatly compliments the car when it's clean.
Based on that we can assume that any of the gray and silvers will look good in this car, however, the Eruption Green does the job as well.
In our opinion, the Area 51 color (blueish gray color) looks the best in the Badlands, but as always, color choices in automobiles are something completely personal, that's why automakers always offer different choices.
Something that we can most of us agree on is that all the 2023 Ford Bronco Badlands colors are well thought out, like with its main competitor, the Jeep Wrangler, all the colors fit them well.