Last Updated on January 6, 2023 by Victor A
Last year we were delighted with two exciting SUVs. First, Aston Martin came out with a more radical DBX, the DBX 707, which has more power and a more aggressive style, and then the Ferrari Purosangue broke cover, an astonishing car that established a new standard for performance SUVs.
Both SUVs are direct competitors, as they are essentially luxurious but with a considerable focus on performance.
In this Purosangue vs DBX 707 comparison we are going to show you the design, the specs, and the pricing of each car followed by a final verdict on which car is better.
Purosangue and DBX 707 design comparison
Starting with the Purosangue design it's hard to ignore the fact that the Italian manufacturer went with a more restrained approach than in most of their vehicles.
The SUV takes a lot of design cues from the Ferrari Roma, which most of us can agree, it's their most elegant car.
This means that the Purosangue is both sleek and sporty, with a great emphasis on luxury. Something that we don't usually see among SUVs.
The DBX 707 on the other side, takes a more excessive approach, where it gets big air vents and a more menacing stance. The aggressive styling of the DBX 707 is better appreciated when you compare it with the standard DBX.
The British marque did a great job in terms of making the DBX 707 feel more special than its younger sibling. However, its interior didn't get the same treatment, as it's essentially the same as the standard DBX, and it's starting to look outdated.
And here is where the Purosangue shines, with its double-console design it sets itself apart from any other SUV interior in the market, add to it the great combination of materials and the suicide doors for the rear seats, and we have a clear winner in terms of design.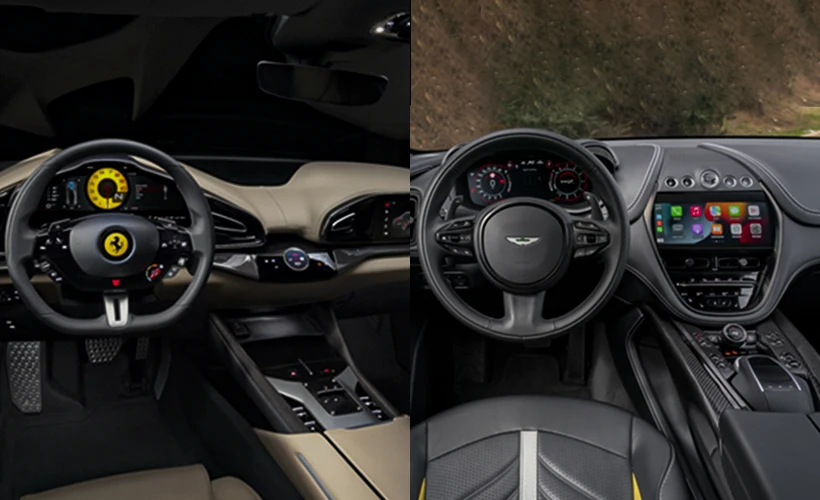 Engine and Specifications
When Aston Martin released the DBX 707 one of the things that did stand out the most was how much more power they managed to pump out from the same engine.
While the standard DBX's twin-turbo 4.0-liter V8 boasted 542 HP (550 PS) and 516 lb-ft (700 Nm) of torque the DBX 707 was taken to new heights with 697 hp (707 PS) and 663 lb-ft (900 Nm).
For a while, the DBX 707 remained the most exciting car of the year, but then Ferrari had to shake things up by releasing the Purosangue with a naturally aspirated 6.5-liter V12 that produces 715 hp (725 PS) and 528 lb-ft (716 Nm) of torque.
A surprising fact about both SUVs is that they share the same acceleration and top speed, they can both speed up from 0-62 mph (0-100 km/h) in 3.3 seconds, while they can reach a top speed of 193 mph (310 km/h).
These impressive numbers show how far SUVs have come, this is the pinnacle of SUV performance.
Price of the Purosangue vs DBX 707
Aston Martin and Ferrari are luxury automakers, they cater to a type of customer who wants the fastest and the rarest which are qualities that often accompany a hefty price tag.
Starting with the Purosangue, expect to spend around $390,000 in the United States and €390,000 in Europe, however, you should know that the high-performance SUV is sold-out for the next two years.
Thankfully, Aston Martin has been more conservative in terms of pricing, where it gave the DBX 707 a price tag of around $239,000 in the US, and €210,000 in Europe.
Ferrari Purosangue vs Aston Martin DBX 707: Which one is better?
Without a doubt, the Ferrari Purosangue is the better car here, this is a unicorn, one of those cars that completely shakes a segment in the car industry, which makes most competitors need to catch up.
We are talking about a sleek, elegant, and sporty SUV that houses a naturally aspirated V12 with over 700 hp, while managing to provide a luxurious and comfortable interior, this is unheard of in the SUV market.
Yes, it's true that the price is steep, and that you'd have to wait a long time to get one or buy a used one, but there's a reason this car sold out so fast.
However, the DBX 707 remains a wonderful SUV, we could argue that it's probably the second-best performance SUV today, just below the Purosangue.
And the best thing about the Aston Martin is that you can get it today, and you won't see many in the street as this is a rare car that few can get.